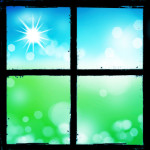 Are you tired of looking at the same, boring window shades every day? If so, you should consider decorating them at home. Painting your window shades is inexpensive and can actually be pretty fun. Here are some tips for decorating window shades.
Clean Shades With All-Purpose Cleaner- The first thing you have to do is clean your shades with an all-purpose cleaner to remove the dust and dirt. Just spray the cleaner on a clean rag and apply it directly to the shades.
Start Painting- Apply the paint to the shades with a sponge in an up and down motion. If the paint doesn't show up well, just tap the sponge back in the paint and pick up more color. When you finish with that color, dampen the sponge with another color and paint it on the shades. You can use as many colors as you want. Don't worry about making sure everything is perfect.
Let the Paint Dry- Let the paint dry for several hours before you touch it. If you live in a humid climate, you may need to let it dry longer. If you touch it too soon, you risk messing up the paint.
If you follow these tips, you can decorate your shades easily and quickly. Whether you paint stripes or polka dots on your shades, be proud of your artwork!