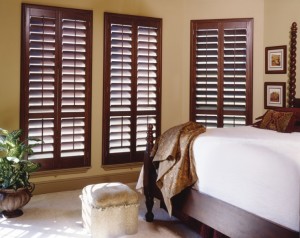 Shutters add can add a certain ambience to any room, and they have a classic look that fits nicely with traditional styles. There are several types of shutters to choose from, each offering its own set of benefits. Plantation shutters are sophisticated, and can add value to a home. These shutters are custom-fitted to your window, so they offer better protection from outside heat and cold. They have horizontal rails that are easy to open and close and are very easy to clean and maintain. They cost a bit more than other shutters, but hold their value very well.
Exterior window shutters add a unique look to your home, since modern homes are typically steering away from this style. However, many traditionalists love the look of outdoor shutters. They also offer protection from the elements, especially if you live in a stormy area. They take the place of plywood on the windows during high winds and heavy rain, protecting your windows from any debris that might be flying around outside. Many exterior shutters have a lock or latch, so you can protect your home and valuables.
Shutters come in many different sizes and styles, so you can make sure to get the best fit for your windows. You can choose from a variety of slat sizes, so you decide how much light to filter out.