Mosaic tiles have a long history. The art of embedding pieces of hand-cut tile, foil-backed glass and stone in a bed of mortar goes back to the days of the ancient Romans. Because producing these works of art was so labor-intensive, mosaics were exclusive to the homes of the very wealthy or for public spaces.
Mosaic tiles are still hugely popular. Thanks to technological advances, machines do most of the work today. Small pieces of tile, natural stone and colorful glass are cut and attached to a mesh backing for easy installation.
Mosaic borders or insets can be used inexpensively to add a high-end appearance to your standard tiled floor. Conversely, you could live like a Roman emperor and cover the entire bathroom of your palatial villa-styled home with beautiful mosaic tiles: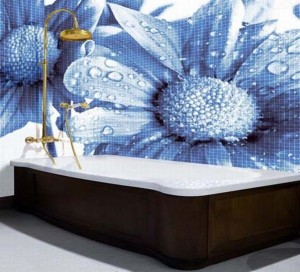 Surface choices on mosaic tiles vary dramatically. Natural stone like onyx, travertine, granite or marble are popular, as are iridescent glass and mirrored or metallic finishes. Polished, glossy floors are an all-time favorite, and so are mosaic tiles with a tumbled, rustic appearance. This aged surface is achieved by putting the tiles into rotating drums filled with water and rocks to rough them up.
Mosaic tiles are perfect for personalizing spaces, as well as adding depth, color and vibrancy, but they are also a smart investment because they will add value to your home. Throughout history, mosaic walls and floors have been prized for their durable and decorative value. Today, buyers in the realty market still look for these unique elements.