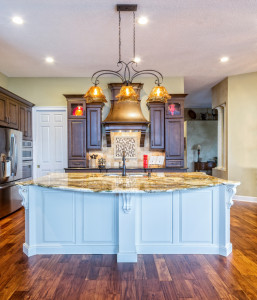 Countertops are a large part of any kitchen. Other than the stove, they are the number one place where food is prepared. They are also used for storing and showcasing appliances and used as a workspace for many other projects. When considering new countertops for your kitchen, granite is a sturdy and beautiful choice. Here are ten reasons a granite countertop is the perfect addition to your kitchen:
Beauty. Granite is very beautiful. No piece is the same, and granite has a lot of depth. When the sun shines on it, you can see tiny pieces of rocks and sparkly quartz.
Market Value. Granite is not cheap, but it is timeless and sturdy. Granite countertops in any home will add to the home's market value because granite is so sought-after.
Safe. Granite is very clean because it will not harbor bacteria growth.
Sturdy. Granite is rock, so you can expect a very strong and lasting surface.
Easy to Clean. A granite countertop is very easy to clean; Even if a stain seems to be set in, a paste of bleach and flour should clean it out.
Heat Resistant. Granite is heat resistant, so you don't need to worry about laying down hot pads before moving a hot pan from the stove to your counter.
Versatile. Granite countertops look great with any style of kitchen. Granite is available in many different colors.
Easy Repair. If your granite countertop is scratched, a strong-armed buffing can easily repair it.
Adaptable. Granite countertops work great with any type of sink, whether farm house, "apron" or vessel-style.
Affordable. Granite can be expensive to buy, but it can also be cut down into thinner sheets so that anyone can afford to install is as a countertop.
If you are interested in more information or in seeing what style of granite countertop would work best for you, check out your local granite manufacturer today!