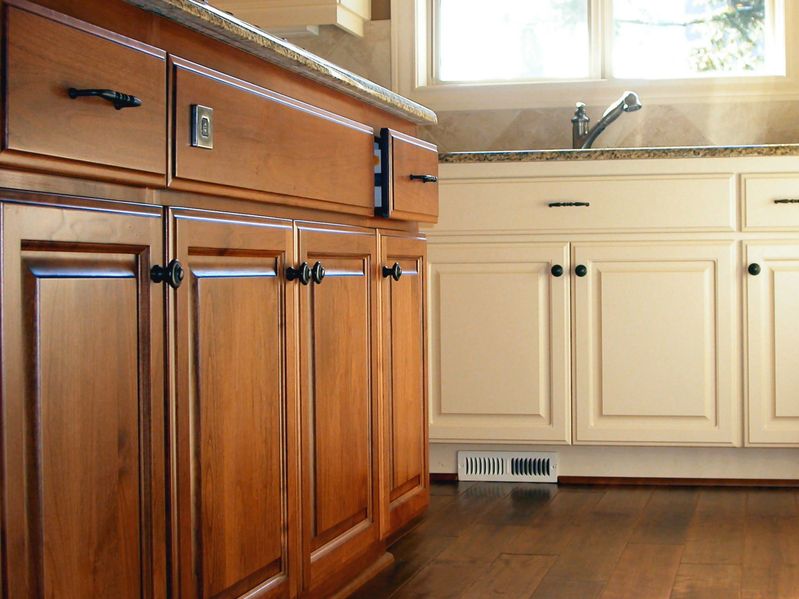 When weighing up a kitchen remodeling project, there are two options for updating your kitchen cabinets – replacing or refacing. Both projects can boost the value and appearance of your kitchen significantly. But some of the similarities end there.
Typically, refacing involves covering the exterior surfaces of the cabinets with new hardware, moldings, and veneers. If the existing kitchen cabinets are made of solid wood, refinishing or repainting with a new color of stain or paint will modernize their appearance. A cabinet refinishing or refacing company may also give you the option of replacing the side and front panels, as well as the drawers and doors.
Refinishing/Refacing Advantages:
The job can be done in a few days.
Reduced cost – refinishing or refacing kitchen cabinets usually costs about one-third less than replacement.
No demolition of existing cabinets, which means there's less likelihood of potential damage to the walls.
Refinishing/Refacing Disadvantages:
Limited customization options.
Potential noxious fumes and odors.
Dust
Sizes, shapes, and arrangement of cabinets stays the same
When deciding whether to replace or reface, there are two other factors to consider:
Durability
Do the existing cabinets have a solid structure? If there are any doubts about the general condition of the cabinetry, a contractor can assist you in determining if you need more than what cosmetic refacing would provide.
Functionality
If you have no issues with the layout of your kitchen and you want to maintain the integrity of its design, refacing the kitchen cabinets might be the best option. But, if you want more flexible functions, more counter space, or extra storage, investing in new cabinets may be a better decision.