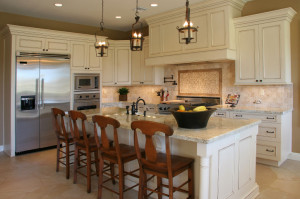 What do glass, porcelain, and metal have in common? They're all currently among the hottest kitchen tile trends, and they're even being incorporated into the most professional kitchen designs. Let's hear what some top designers have to say about today's kitchen tile trends.
Metal
If you're looking for a kitchen tile to complement stainless steel appliances, choose a metal tile. Metal also goes magnificently with a hammered-copper vent hood – tiles provide much more interest than those large sheets of copper or stainless steel. Small metal tiles enable homeowners to create all kinds of designs and patterns.
Metal wall tiles also make ideal kitchen backsplashes. If you want a contemporary, polished look, go with stainless steel tiles. They are available in many finishes, ranging from brushed to satin. Warm copper or bronze tiles add timeless beauty to more traditional kitchens.
Glass
Right now, glass is an exciting accent. Glass tiles are being used on shower walls, as kitchen backsplashes and as accents on floors. They add luminescence, sparkle and depth.
With an endless color palette and finishes from flat to glossy, glass tiles can fit any design scheme. If used sparingly, brightly colored glass tiles provide beautiful visual highlights. And, when used to cover an entire bathroom, glass tiles can create a luxurious spa-like ambiance.
Porcelain
The ideal kitchen tile for flooring, porcelain can handle heavy foot traffic in commercial and residential locations without compromising beauty and color. Porcelain is fired at a very high temperature, so its breaking strength is high, plus it contains less clay and more of the mineral, feldspar.