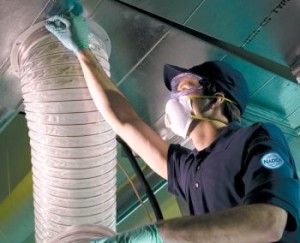 Many a building's HVAC system has had repeated, mysterious problems in operation. In these same buildings, frequenters may believe themselves to have chronic allergies, perhaps having onset suddenly and recently. In these same buildings again, energy consumption and the power bill are larger than necessary. The cause of all the above-listed problems may be surprisingly simple: not having had a duct cleaning in the last few years, or possibly never having had one performed.
A duct cleaning is as necessary, if not more so, as any other of the regular HVAC maintenances: changing the vent filters, cleaning the condenser coils, etc. Dirty ducts collect dust, debris, and even leftover building materials, all of which can be common allergens at the least and potentially more directly harmful to health. If people in your home or place of business are complaining of suffering from frequent headaches, sinus problems, irritated eyes, noses, or throats (especially if they don't experience these symptoms in other places), it could be time to consider duct cleaning.
Apart from health problems, dirty ducts can cause trouble in your HVAC system's overall functionality. Narrowed passageways in the ducts themselves, as well as debris contaminating the mechanisms within the system, can have a negative impact on your system. The added strain and pressure to the system can result in break-downs, which will certainly be much more stressful, and costly, than simply having duct cleaning performed in the first place.
To check whether your ducts need cleaning, you can look for yourself inside the passageways where the vents come into the room. Look at the vents leading into as well as out of the rooms; see if there is excessive build-up of dust and debris, as well as signs of mold growth. If you encounter any of these, it's time to consider duct cleaning.