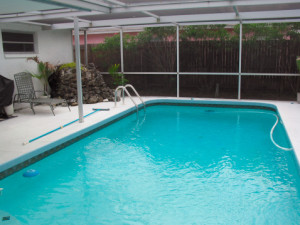 The average lifespan of pool and patio screens can be anything from 10 to 15 years, depending on where you live. Screens on a swimming pool enclosure receive a lot of sun and subsequent damage from UV rays. Over time, the vinyl coating wears off, exposing the silvery fiberglass threads.
At this point, the screen becomes extremely brittle and can easily tear. If your screens look like this, then it's probably time for a complete rescreen. In the long run, this would be more cost-effective than continually having screen repair that involves replacing individual panels.
Other common screen repair problems include:
Rusty Anchor Bolts: These ensure that the enclosure is anchored to the deck. If they are not made of stainless steel, they are especially vulnerable to hard water irrigation systems and harsh pool chemicals. Broken or rusted bolts should be inspected by a professional and replaced as soon as possible.
Door Hardware: Common issues are broken hinges, rusty closers, broken latches or an incorrectly installed door. Often, when latches break, homeowners try to replace them with ones from a hardware store. Unfortunately, these seldom match properly, and if they do work at all, they can be problematic.
Broken or Loose Cables or Wind Braces: These are what keep your enclosure safe in high winds. They should be replaced as soon as possible.