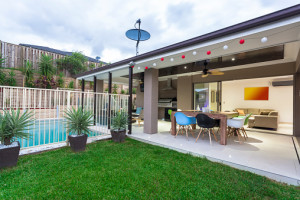 Summer's almost in full swing, so it's time to make sure that your outdoor living space is just as ready for the hot months as you are, especially if you're planning to host plenty of parties and barbecues. Porch screen repair is one of the most important things to have done, but there are some other ways to keep your patio looking freshly primped.
If your patio has been neglected, it probably needs a good clean. Grime and dirt build up over time and make the space look really unattractive. Remove all accessories and furniture, and give the patio a clean sweep. Make sure you get into every last corner, and make the same effort that you would inside your house when vacuuming and dusting!
Once you have had porch screen repair attended to, it's time to introduce some color to your patio. When it comes to summer parties, color makes all the difference. It provides personality and brightness. Rugs and pillows are super easy ways to introduce colors, and they go a long way in improving comfort. Even barefoot, you and your guests won't have to deal with a blistering hot deck. Flowers are another simple way of brightening up an outdoor space in no time – the perfect summer décor!
So get going! Spruce up your outdoor living space and let the summer fun begin.