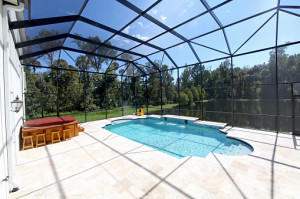 Ripped or cracked screens can result in pests or the elements making their way into your enclosed space, which defeats the very purpose of having a pool screen installed in the first place! So, the sooner you have pool screen repair done, the better.
Many people want to know what a warranty covers when a repair is performed. Well, there's no short answer because different manufacturers have different warranties. However, as a rule, a warranty lasts anywhere from 3 to 24 months and usually covers only workmanship, not damage caused by acts of God, people or animals. Therefore, a warranty would probably be void when tornadoes, hurricanes or strong winds cause damage.
Even if the screens are not torn or blown out during a tornado or hurricane, the actual frame can be damaged as it moves from side to side, and the bolts can loosen, thereby compromising future stability. The screen material is probably also not covered in the event of strong winds.
When you do have pool screen repair work done, keep the paperwork that shows exactly the job involved. You can then take the matter up with either the manufacturer or your insurance company. Remember, at the end of the day, warranties are only as good as the companies who stand behind them.