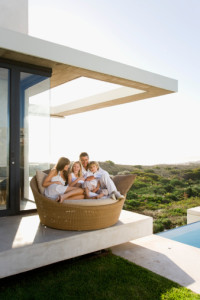 The weather is really heating up here in Florida, and your screen porch or swimming pool is no doubt looking more inviting every day. That is, unless you've got doors that won't open properly or holes in the screens, and maybe a few months' worth of dirt. If so, you clearly need patio enclosure repair!
It's always a great feeling when you can complete a home project on your own. That's the reward of DIYing! Patio enclosures can vary in size from one-panel, small-framed spaces to huge swimming pool areas that can consist of anything from 50 to 100 panels. So, when can you roll up your sleeves and do the patio enclosure repair yourself, and at what point do you turn to a professional?
Well, first consider your skill level. If you are reading this article because you've never done home improvements yourself and want to give it go, frankly we don't think patio enclosure repair is the place to start. Even if you need to only replace a single panel, you're going to need more than your standard household tools. Okay, you can go to the hardware store and buy some expensive stuff, but if the job proves to be too difficult, you will have wasted all that money. At the end of it all, paying a professional from the outset would probably be cheaper!