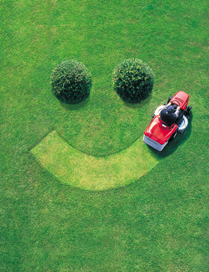 Let's face it, we love our Florida weather, but sometimes the humidity and hay fever can really get us down. When the humidity is high or your allergies during ragweed season are crippling, do you find yourself pulling the covers over your head instead of getting up to mow or fertilize your lawn? There's no need to fight the weather because we've got you covered with our lawn care services!
Our lawn care service professionals will take just as much pride in your green lawn as you do. We have the equipment and knowledge to create a better lawn than you thought possible. We can protect your lawn from pests and weeds, like dandelions, spurge, or crabgrass, which will try to hinder its growth and beauty.  We know exactly how to destroy and prevent these invasive weeds from taking over your lawn and your patience.
With our lawn care services, you will have peace of mind as you relax in your hammock or get ready to fire up the grill for that neighborhood party! For more information on our lawn care services, contact us today.