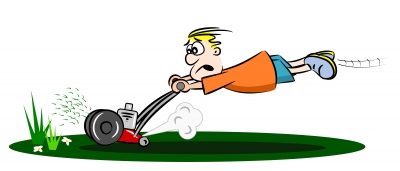 Recently, a press release from a children's hospital offered safety tips about lawn mowing. Although it was aimed at parents of young children, a lawn care professional says the tips apply to anyone who has the task of mowing the lawn. Every year, 68,000 patients are treated in emergency rooms for lawn mower related injuries, according to the American Academy of Pediatrics.
That's why we've decided to share these lawn mowing safety tips in this article – modified for an older audience:
If you use a power mower, it should have a control that stops it when the handle is let go. Never disconnect this control.
When the mower is placed in reverse gear, make sure there is automatic blade disengagement.
Refuel and start mowers outdoors – not in a shed or garage. They should be refueled while they are cool, and the motor is turned off.
Ensure the blade settings are done while the mower is off and the spark plug disconnected or removed.
Wear hard shoes, as well as eye and hearing protection while lawn mowing.
Don't carry passengers on ride-on mowers.
Avoid injuries from flying objects such as toys or stones by picking them up before lawn mowing begins.
Don't mow in reverse or pull the mower backward unless absolutely necessary.
Turn the mower off and wait until the blades have completely stopped before unblocking the discharge chute, removing the grass catcher, or crossing paths, roads, etc.
Also keep the above tips in mind if you are in the market for a new mower and you want certain features.