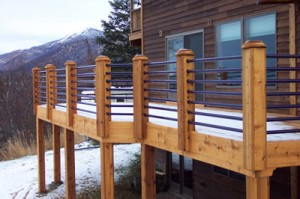 Deck railings are a necessary safety feature and can also enhance the look and value of a home. Unfortunately, though, railings have a tendency to all look the same. For some people, this uniformity is not a problem, but if you are the type of homeowner who likes something unusual or unique then having a deck railing that suits your individual style may be a challenge.
Some ideas to achieve this are:
Use less-common materials like steel cabling, rope or tempered glass panels instead of the usual wooden balusters or wrought steel sections.
Mix materials in unusual combinations. Examples could be wood with stainless steel, different types of wood or metal together or wood and glass rather than the more common glass and aluminum.
Use colors that stand out. White rails and black balusters or the reverse will contrast boldly. This color combination can be used on both steel and wooden railings. Primary colors can also be used, rather than the common stained look of wood or the conservative colors used on metal railings.