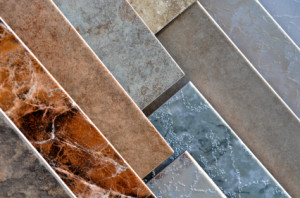 When someone has decided they want a ceramic tile floor, they soon discover that there are many choices to be made. The first choice they have to make is what kind of ceramic tile they want the floor to be made of. Below are four types of ceramic tile and a short explanation of each of them.
Glazed ceramic tiles – These are available in matte, abrasive slip-resistant, and high-gloss finishes. High-gloss tiles are slippery when they become wet and the glazed tiles have a glaze that doesn't go through the whole tile, so it can provide your floor with a look that's non-uniform if it were to get chipped.
Mosaic ceramic tiles – These tiles are made of different kinds of clay, but color pigments have been added to ensure the color spreads entirely through the tiles. They are available in unglazed or glazed finishes and are resistant to moisture. They also are less prone to chipping when compared to other kinds of tiles.
Quarry ceramic tiles – These tiles are made of a mixture of clays that are unglazed. They are available in tones such as red, brown, and gray. The color of the tiles is determined by the clay and the firing procedure. These kinds of tiles are normally porous and could stain if they're not sealed.
Porcelain ceramic tiles – These tiles have been fired using extreme temperatures. This means they are harder and stronger than other kinds of ceramic tiles. They absorb a lot less water than other types of ceramic tiles and they're very resistant to wear, which means they're very good for areas that are high-traffic.
When you are choosing ceramic tiles for your floor, think about the amount of traffic it receives and what kind of room it is for. That will help you with choosing the right kind.
Ceramic Tiles Offer More than Just Flooring Options
Ceramic tiles are a great option when it comes to flooring; they are easy to maintain, extremely heat and frost resistant, scratch and stain resistant, and quite attractive. However, flooring isn't the only opportunity a homeowner enjoys to find a use for them; ceramic tiles work very well in many aspects of the house, leaving the floor open to other materials, such as hardwood or carpeting.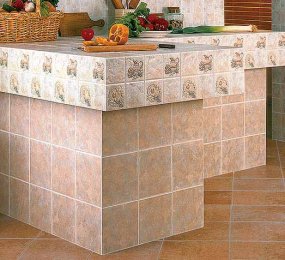 The first and most obvious alternate use for ceramic tiles in a household is for kitchen counter-tops. The kitchen counters of most households see heavy, daily use, which means that ceramic tiles' durability and resistance to staining comes in handy. The heat resistance also adds a degree of safety; in the instance of a hot pot or pan being carelessly placed on the counter, for example, a ceramic tile will withstand the heat much better than most any other surface material.
Many people think of ceramic tile as a possible flooring material, but fewer are aware of the aesthetic appeal that a tile wall can present. In the bathroom, for example, ceramic tile walls can add a great sense of luxury. Decorating ideas are endless and sure to impress visitors and offer comfort to inhabitants. On the utility side, ceramic tile walls, especially in the bathroom where a shower might be, hold up to high humidity much better than wallpaper, for instance.
The back porch or outdoor lounge can also benefit from ceramic tiles. In this case, the tiles are better off left unglazed and set correctly. The tiles hold up very well if installed properly by a professional. Ask a flooring company in your area for a consultation if you're looking into alternative decorating options to make your household stand out and rise in value.