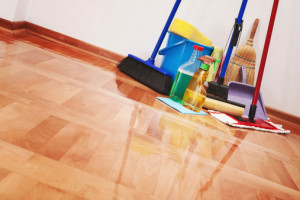 There can be many occasions when a landlord might need to hire a rental cleaning crew to assist them in cleaning their rental property after a tenant has moved out. Since it's not necessarily the tenant's job to thoroughly clean a home after leaving it, people most likely will do little to no cleaning whatsoever.
Depending on the tenants, they could be the type to pile loads of garbage, leave behind items, or even fail to clean up pet messes throughout the home. These are all serious matters that need to be taken care of as soon as possible to avoid contaminating nearby areas, posing health hazards to people, or causing the rental property to become uninhabitable.
Similar to foreclosures, a cleaning crew will focus on work on the inside of a home, as well as the exterior of a home. Rental cleaning should be used when there is too much work left to be done. Sometimes, a homeowner or property owner could be up to the challenge of cleaning out their rental units, but oftentimes these types of situations require the services of rental cleaning crews.
The landscape of a home is something that requires special care, as does the interior work of a home. From washing walls to scrubbing floors, and cleaning rooms top to bottom, there is a lot of cleaning detail work that goes into a rental cleaning. The bathroom toilets must be properly cleaned and sanitized; furthermore, the bathtub is also an area that might require renovation or repairs.
Other interior rental cleaning can include a thorough cleaning of the refrigerator, oven, cleaning underneath appliances, and behind hard-to-reach places. Some final inside cleaning tasks might also include cleaning carpets, washing windows and mirrors, cleaning light fixtures, and any other special tasks that might be needed.
As far as the outside of rental home is concerned, other than the yard being mowed and edged, there can be other landscaping work done to improve the property. Lastly, any garbage around the property that was gathered together, or was on the property is hauled off to the dump. Those property owners who are ever in the need for a rental cleaning will be more than pleased with the results.