Metal Tiles
A contemporary bathroom has modern, sleek lines with a minimalist feel and a very specific look. If you want your bathroom to take on this aura, you'll have to make a few adjustments – some minor and some major – to achieve the desired result. The first is to get rid of all the clutter!
This may involve changing the storage from counter-top to under-counter. It may also involve losing some of the existing fixtures and fittings. You might need to hollow-out a wall and install inlaid cabinets for a clutter-free impression and to keep the lines clean. Alternatively, you could install semi-extruding paneled cupboards with recessed doors to maximize storage space. Opt for under-floor heating and towel rails in chrome or steel.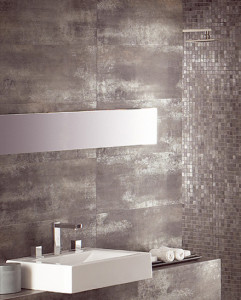 If your floor tiles don't suit this theme, you'll never pull off the look you want. Metal floor tiles or metal wall tiles work really well in contemporary bathrooms, and they offset natural stone and porcelain nicely. Silver and steel colored floor tiles look great, especially against white and black backdrops, as do brass or copper. It all depends on the color scheme.
It's important that the floor tiles and wall tiles harmonize, and that all lines are crisp and smooth. That way, every element of the design is highlighted. Lighting is the cherry on the top – a rack of directional lights will provide precise illumination and maximum impact. Modern inlaid spotlights also work well.
Look at this bathroom: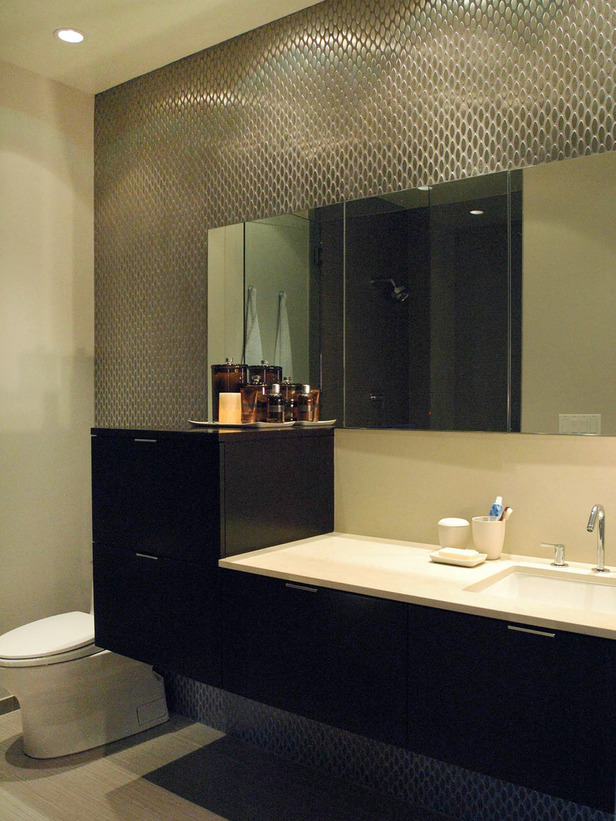 See how the metal tiled wall balances sheen and texture while muting the crisp lines of the vanity and linear mirror.
Glass Tiles
Porcelain, natural stone and other types of tiles look great on walls and underfoot, but many of us forget about glass tiles. They can be used anywhere, and glass is an especially beautiful bathroom tile choice. In fact, according to the owner of a remodeling company in Cornelius, North Carolina, "Glass is literally exploding in the marketplace right now."
Take a look at this very elegant glass bathroom tile design: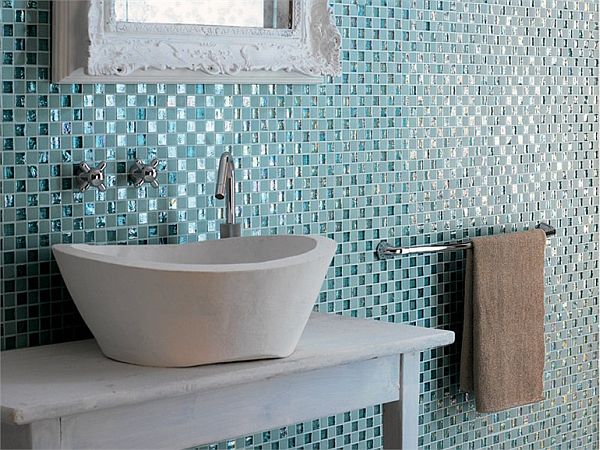 And, as the interest in glass grows, more design and decorating options are developing. You can even get glass tiles that change color when the temperature of a room changes – sort of like "mood swings" in your bathroom tile! See how these shower tiles change color: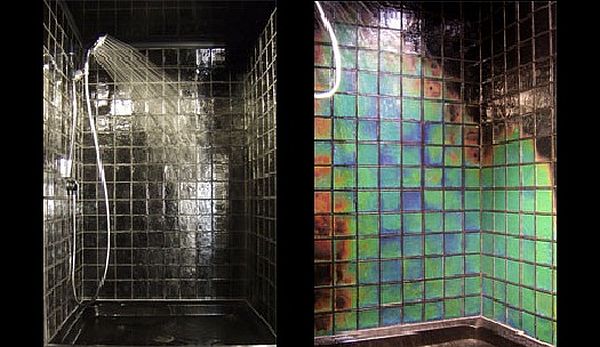 With an endless choice of shapes, sizes, textures and colors, glass tiles are now one of today's most used home decorating materials. Glass is amazingly versatile and, apart from being an ideal bathroom tile, glass tiles make striking backsplashes and countertops. Many varieties of glass tiles are made from recycled jars, bottles and other materials, so they are not only beautiful – they're also environmentally friendly.
Glass tiles are resistant to temperature changes, moisture damage, and they are stain-resistant. They are easy to keep clean – just use the same cleaning product that you clean your windows with.
A Word of Caution
While the tiles are not prone to breaking, if they are being installed on a floor, their smooth surface may scratch – plus they can be slippery. To eliminate both these problems, choose a glass bathroom tile with a sandblasted surface for floors.